Musical Worship Opportunities
---
Printable 2012-2013 Music Calendar
Choral
Opportunities

Chancel Choir
Rehearsals: Wednesday, 7:15pm
Participates in worship weekly, seasonal and special services.

Ladies Ensemble
Rehearsals: Thursday, 2:00pm
Services and Seasonal programs

Men's Ensemble
Rehearsals: Thursday, 5:00pm
Services and Seasonal programs

Evening Ensemble
Sings a variety of musical styles!
Rehearsals: Thursday, 5:45pm

Musical Arts Team
Provides musical leadership for the
Encounter worship service.
Rehearsals: Thursdays, 6:30pm
resume - Thurs, July 28, 2011

Singing Seniors
Short term experience for all Senior Adults!
No experience needed...
...just a love of singing!

Ensembles do not rehearse during Fall and Spring Break.

Instrumental
and Worship Arts

Handbells
Martha Sue Bonner, Director


Jubilee Ringers
Rehearsals: Wednesday, 8:00 a.m.
Participate in worship monthly


Sanctuary Handbells
Rehearsals: Thursday, 4:30 p.m.
Participate in worship monthly


Instrumentalists
Coordinated by Don Miller
Instrumental opportunities during worship services and seasonal services.


Drama
Coordinated by Alice Kilgrow
Drama opportunities during worship and special performances.


Visual Arts Dance
Visual art and dance opportunities are available.

Contact the Music Ministry Office:




526-2177, ext 204

Children, Youth, and College

Early Childhood Music Ministry
Becky Frye, Instructor.
Early Childhood Page


Choir Club
Children's Choir Ministry
A graded choir program for children age 3 through grade 6. Choir Club Page


Youth Music Opportunities
For youth grades 7-12.
Youth Choir Page

College Ensembles
Contact the Music Ministries Office, 527-2177 or email: music@cookevillefumc.org.

~~~
Let every instrument be tuned in praise!
Let all rejoice who have a voice to raise!
And may God give us faith to sing always!
Alleluia!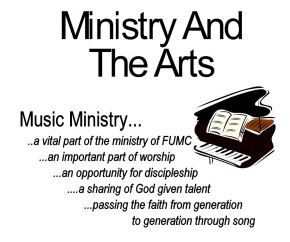 * Contact Becky Frye for information about Early Childhood Music classes.